Island Time
My memories of Waiheke island was that at the end of a ferry ride, I arrived at an escape from Auckland suburbia into a rumpled and lushly covered landscape dotted with kiwi baches. A paradise for alternative Aucklanders wanting to escape the city.
Now it has been discovered by the wealthy.
Its holiday character has changed fundamentally because its desirability has led to great pressure on its limited land area. It is now effectively an elite suburb, possibly now able to be described as Auckland's 'East Shore'
The day after the recent NZIA conference main course, a tasty desert option was arranged – a visit to four new Waiheke houses.
Leaving the Auckland terminal, our ferry passed the berthed Russian Vodka Oligarch's floating palace 'Serene'. Maybe it was a design precursor of the land-based palaces we were about to see.  Upon arrival at Waiheke, we were bussed to a magnificent headland perch upon which a recently completed Stevens Lawson designed house for part-time occupants is anchored.
Both the floating and land based structures were slickly designed. Interestingly both the boat and the house featured flush fitting panels, but where Serene's concealed jet skis, a submarine, fizz boats and even a helicopter, the headland house's conceals merely a fridge, a cutlery drawer and a microwave.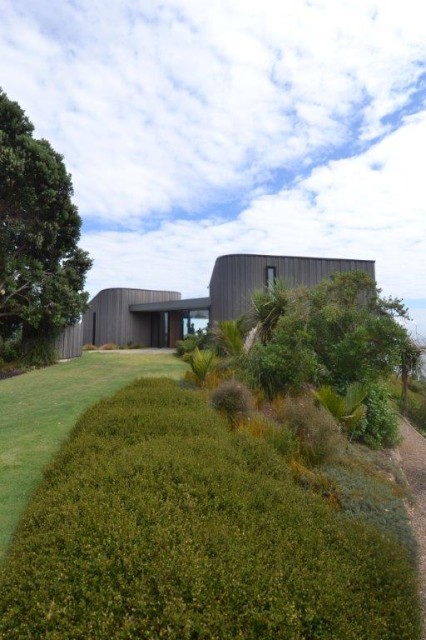 Another house, facing mainland Auckland from a superb elevated ridge, and designed by Architex, is another part time retreat, only distantly possessing the DNA of the kiwi bach, in its display of unembarrassed and unpretentious hedonism.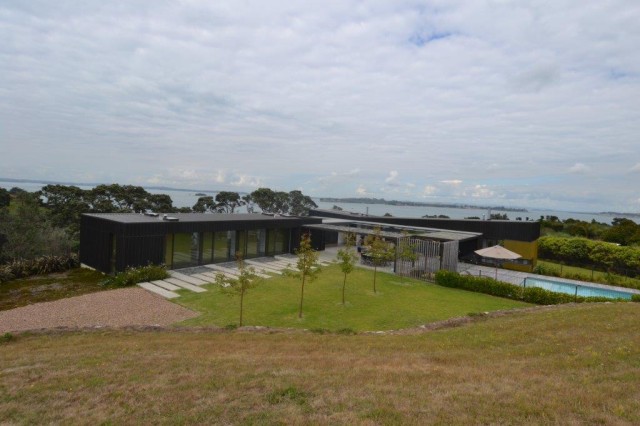 We then visited the rather more modest Ostend Rd house by Bull O'Sullivan Architecture. It was organically wholesome, and the first house to actually have a full time live-in owner. Facing and embracing its extensive vege garden and lawn, it turns its blank corrugate clad rear-end to the street. A very brave move but an honest expression of its orientation and layout.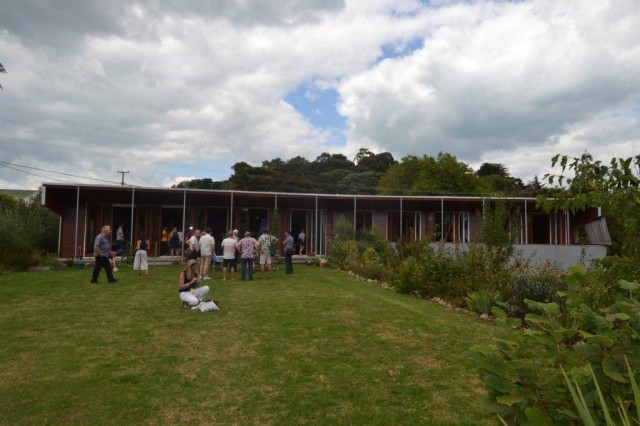 The final offering was, to my mind, the best: Owhanake Bay house by Strachan Group Architects.  Loosely wrapping its site contours in angled pavilions hinged together by bathrooms, it sits lightly on the land with its roofs in tune with the ground slope. There are lovely materials everywhere and exemplary attention to detail. Every room embraces a beauteous outlook toward the Pacific ocean.
The combined cost of these four architectural Oscar nominees would probably exceed the purchase cost of Mangakino.
Architectural analogies are problematic. But when London Mayor Boris Johnson, was recently derided by the Royal Automobile Club about the motorist being 'clobbered again' by his raising of the daily congestion charge in Central London, he replied 'I thought car lovers would appreciate a better class of car on the streets of London'.
I think what Boris said applies to what's happening on Waiheke. Its 'congestion charge' is surely leading to a better class of house design. Far more architecturally worthy per capita than the mainland Auckland, its detached housing stock, whilst unaffordable to most, is in tune with the unique splendor of this island paradise.