New Plymouth Redux
In 1975 I designed a large house perched high above New Plymouth for a local businessman.
This was a challenge to a young frisky architect, and I gave it my best.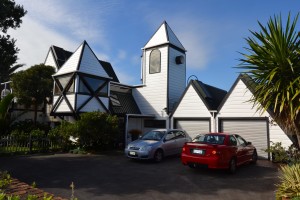 My client ran a successful and innovative furniture company, based largely on wood as a material.
He wanted to build something 'different' from the normal McMansions and 'starter castles' (yes, they did exist 38 years ago). I listened to him closely and like all commissions tried to give him the house he wanted.
His budget allowed for the creation of a range of spaces linked from intimate to grand and from dark nooks to expansive outdoor decks.The many re-entrant corners in the floor plan knits the house to the site, with a variety of outdoor areas to suit the occasion, the time of day and the changing seasons. Many of the spaces have their own individual roofs, the resulting composition resulting in the appearance of a small but lively village.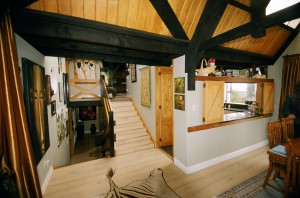 I believe he came to me as a architect who could he could trust to tailor a house to his personality and marry it to the expressive vision of his furniture. The Council Consents and the build proceeded without fuss and we were all happy with what had been achieved.
Apart from the odd phone call from academics following my work, I hadn't heard how it was progressing as a home. But like the midwife who wonders how the babies she delivers are getting on, one of the joys of my business is the somewhat random rediscovery of previous works.
So I was delighted when recently, out of the blue, I had an email from new owners Andre Ferreira and Jan de Klerk who had converted the house to a homestay (Bob's business had outgrown New Plymouth and he had moved overseas).
Miss M and I were due to attend a wedding in New Plymouth, so I arranged a visit to the house on the hill. Imagine my delight to see it being so loved and looking so good. Andre & Jan have completed the garden, done some amazing interior work whilst remaining completely respectful of the design.
Often clients don't want to create environments too personal to themselves in case they compromise the 'saleability ' of one of the major investments of their lives, if for some unseen future reason, they decide to sell. My experience is the opposite. Buildings that are too bland to be noticed , just go up and come down with nobody particularly caring. I believe that a strong design, loved by its original owner is much more likely to be loved by a new owner than an anonymous box.
We can spend far too much of our one and only life trapped in a box. Not Bob, Andre or Jan.
Sadly, the spacial intricacies and complexity of forms of 1970's houses like 'Tivoli' may never be repeated due to high construction costs and the brain strain of the designing process.
This makes it an important house, and not one that will disappear in the wake of the voyaging ship of architecture.